Vacuums / Sweepers

Manufacturer: Pro Team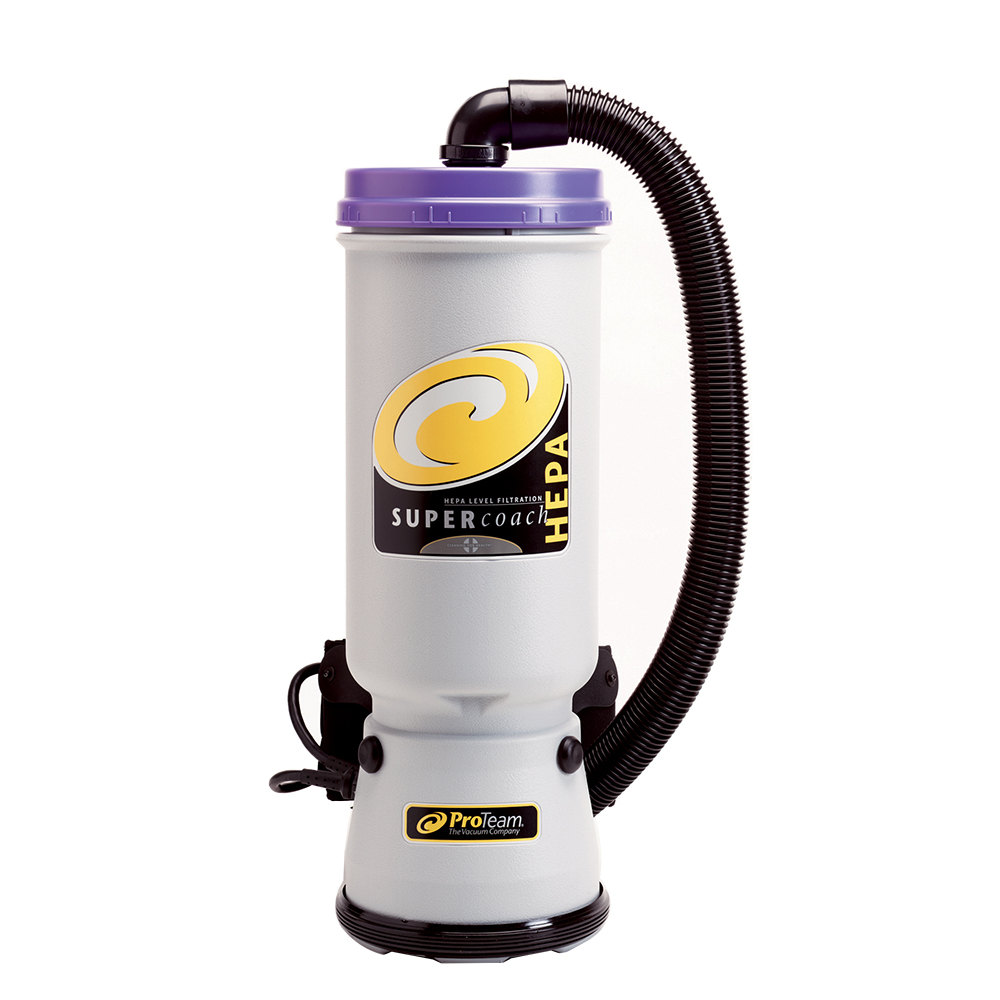 Super CoachVac® HEPA with tools
The Super CoachVac HEPA is a productivity powerhouse designed to tackle the most demanding cleaning challenges.
This powerful and high filtration unit is ideal for vacuuming high square-footage areas that require the utmost cleanliness.
Watts: 1188W
Weight: 11lbs.
Decibels: 66dBA
Airflow: 150 CFM
Static Lift: 100in
Amps: 9.9A
Capacity: 10qt. (11L)
Four Level Filtration: 1190 sq. in. w/HEPA Level Filtration
Item#
100653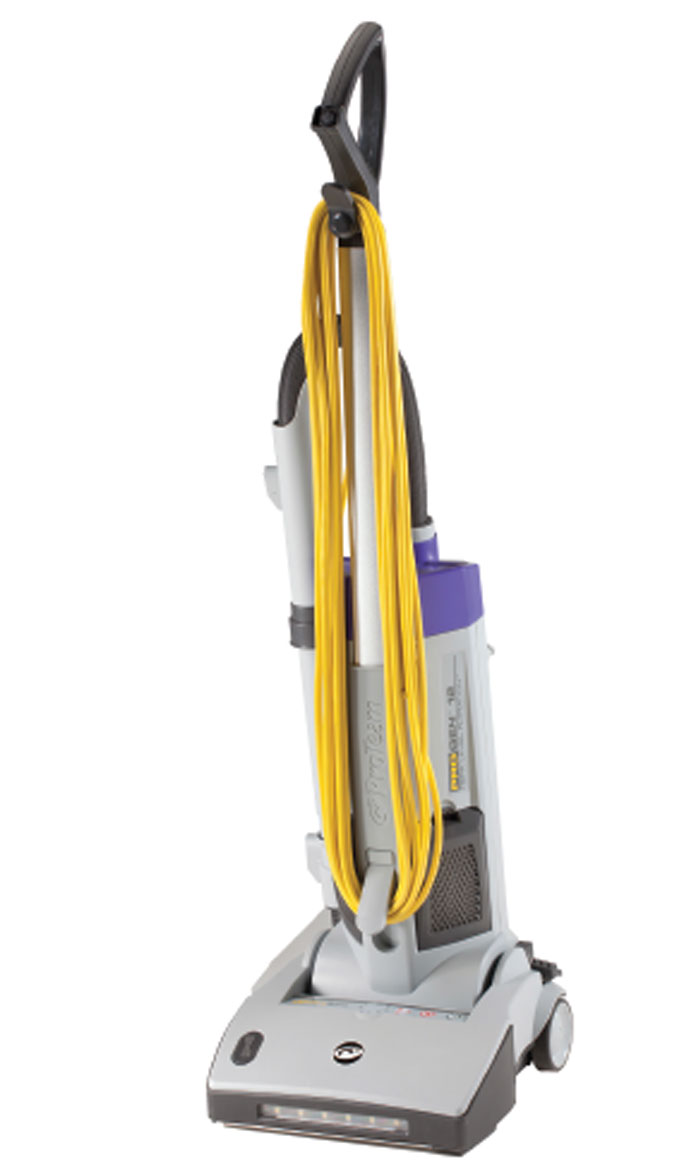 ProGen® 12
Upgrade efficiency with ProTeam's new ProGen® 12 upright. Innovative features, reliable performance,
and advanced maneuverability make it the Next Generation of upright technology.
Durable construction and no-tools maintenance assure low cost of ownership.
Animated dashboard alerts user to airflow block or brush roll jam. HEPA Level Filtration™ improves IAQ.
Watts: 1100W
Weight: 17lbs.
Decibels: 69dBA
Airflow: 100 CFM
Static Lift: 93in
Amps: 9.8A
Capacity: 3.25qt. (3L)
Four Level Filtration: 236 sq. in. total area
*Special Order*
Item#
107329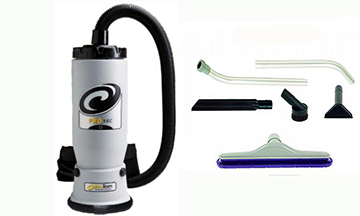 Pro Clean Mega Vac with tools
Utilizing our most powerful motor, the MegaVac defines industrial strength.
The versatile design allows for quick conversion into a high powered blower
while the huge filter capacity contains large amounts of debris.
This unit is a "must have" tool in many large industrial facilities
and commercial construction sites.
Watts: 1188W
Weight: 11lbs.
Decibels: 66dBA
Airflow: 150 CFM
Static Lift: 100in
Amps: 9.9A
Capacity: 10qt. (11L)
Four Level Filtration: 1136sq. in. total area
*Special Order*
Item#
105896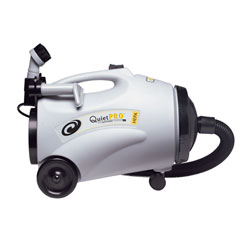 Pro Clean Quiet Vacuum® HEPA with tools
The QuietPro CN HEPA vacuum with Quiet Power Technology delivers high performance where low sound levels are critical,
With a filter capacity four times the size of standard uprights, the QuietPro CN HEPA provides maximum cleaning ability.
Power Mode
Watts: 744W
Weight: 12lbs.
Decibels: 55dBA
Airflow: 124 CFM
Static Lift: 75in
Amps: 6.2A
Capacity: 10qt. (11L)
Four Level Filtration: 2188sq. in. w/Hepa Media
Quiet Mode
Watts: 552W
Weight: 12lbs.
Decibels: 47dBA
Airflow: 85 CFM
Static Lift: 38in
Amps: 4.6A
Capacity: 10qt. (11L)
Four Level Filtration: 2188sq. in. w/Hepa Media
*Special Order*
Item#
106207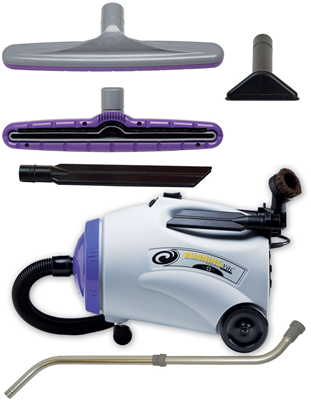 Canister Running Vacuum with tools
With the same durable construction found in all ProTeam vacuums, the RunningVac provides exceptional
cleaning strength unmatched by traditional canisters.
This high performance speed canister is the perfect solution for increasing productivity when a canister is needed.
Watts: 1188W
Weight: 12lbs.
Decibels: 66dBA
Airflow: 150 CFM
Static Lift: 100in
Amps: 9.9A
Capacity: 10qt. (11L)
Four Level Filtration: 1045 sq. in. total area
*Special Order*
Item#
107150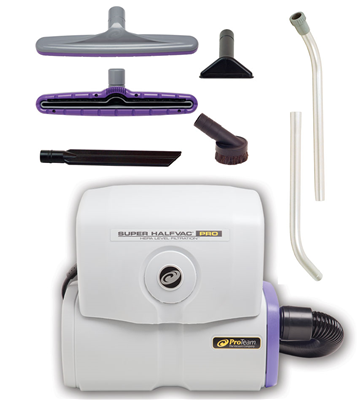 Super Half Pro Vacuum with tools
Innovation redefined – the new Super HalfVac Pro. This powerful, versatile vacuum
provides superior cleaning power in a lightweight, compact vacuum.
Ergonomically designed for commercial cleaners who rely on durability and easy maneuverability.
Includes a revolutionary four level filtration system for the ultimate cleaning performance.
Watts: 1050W
Weight: 10.5lbs.
Decibels: 66dBA
Airflow: 106 CFM
Static Lift: 97in
Amps: 8.5A
Capacity: 6qt. (6.6L)
Four Level Filtration: 1060 sq. in. total area
*Special Order*
Item#
107327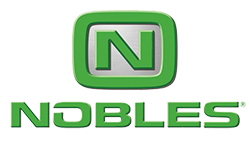 Manufacturer: Nobles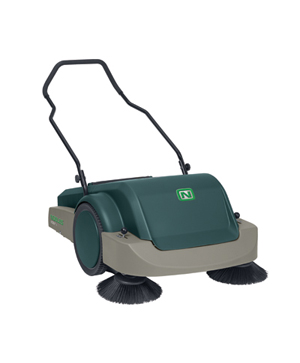 Smart Sweeper
Clean your floors in a single pass with TwinMax Sweeping Technology. the twin, counter-rotating brushes combine overthrow and direct sweeping principles to capture large and small debris with one machine.
TwinMax technology is designed for sweeping multiple floor surfaces in both indoor and outdoor environments.

Efficient Dual side brushes increase the sweeping path to 34 in / 870 mm, and a large 1.8 ft3 / 50 L hopper saves you trips to the dumpster, which gives you more time for cleaning.

Flexible The is well suited for indoor and outdoor cleaning. Manual operation makes it the perfect option for noise-sensitive environments.

Durable Major components field-proven in commercial applications for 10 years. Wrapped front bumper design helps prevent high-impact damage to body and side brushes.

Easy Simple, no-tool side brush adjustments and easy-to-use operation mean less time training and more time cleaning. The contoured handle is padded and ergonomically designed for optimal operator comfort.​​​
Item#
792008 - Smart Sweeper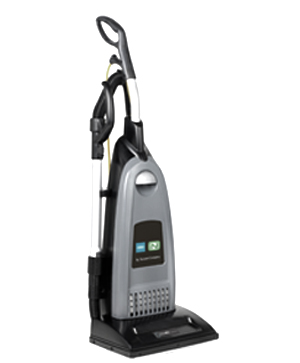 V-SMU-14 | Upright Vacuum
Reduce maintenance costs and downtime.
The V-SMU-14 eliminates four key issues that cause
vacuums to fail, thus increasing productivity and
lowering service costs verses current commercial vacs.
Durable and Affordable.
Major components have been proven in commercial
applications for over 10 years. This vacuum delivers high
value at operating costs up to 58% less than other
commercial vacuums.
Healthy, proven performance.
Standard with HEPA 3-stage filtration, the vacuum's
cleaning performance is also certified Silver by the Carpet
and Rug Institute's (CRI) Seal of Approval program.
* Based on acquisition cost and assumed consumables (60 bags, 1 brush roll
and 8 HEPA filters per year).
LEED qualifying with CRI SOA
Silver Performance and noise
levels less than 70 dBA.
Increase productivity and
cleaning coverage with
onboard crevice and
upholstery tools and up to
30% longer wand reach than
competition
Easy operator serviceability
with no-tool brush and belt
replacement.
Item#
792084 - Single Motor
658595 - Vacuum Bag
177785 - Belt **Special Order**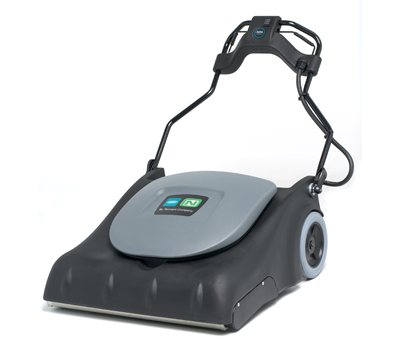 Maximum productivity
This durable wide area vacuum cleans large carpeted
areas with nearly four times the productivity over
traditional upright vacuums.
Reliable durability
Major components have been proven in commercial
application for over five years. Low acquisition and
consumable prices combined with proven performance
make it easy to chose this vacuum over similar models in
the market today!
Proven performance
Standard with HEPA 4-stage filtration for improved
air quality, the vacuum's cleaning performance is also
certified Bronze by the Carpet and Rug Institute's (CRI)
Seal of Approval program. Operating at below 70 dBA,
this vacuum is also LEED qualifying.
Increased ease of use with a
fully adjustable handle that
can be set to the perfect
height for operator use yet
folded down for easy storage
when not in use.
Easily clean hard-to-reach
areas with a low profile
design that provides
increased maneuverability
and reach under.
Increase operator ease-of use
and decrease training with
easy-one button operation.
Item#
892006 - Wide Area 30
Wet/Dry Vacuum - V-WD-16B
Clean longer - Reduce the number of empty/fill cycles with
either large capacity 15 gallon/57 liter or
16 gallon/60 liter tank.
Reduce maintenance costs - Prevent damage to the machine and your
facility with a compact, rugged body made
of durable polyethylene, backed by a 10-year
warranty.
Multiple options - Choose a unit that's right for the application—
whether it's the standard 15 gallon/57 liter unit,
a pump out model, which pulls at a high rate
and allows for easy emptying into taller sinks,
or the battery operated model for greater
flexibility and maneuverability. Optional tools
and squeegees are available.
Prevent vacuum damage with the float shut-off.
Gain easy access to the recovery tank and float
shut-off with the flip-top lid.
Item#
400201 - 15gal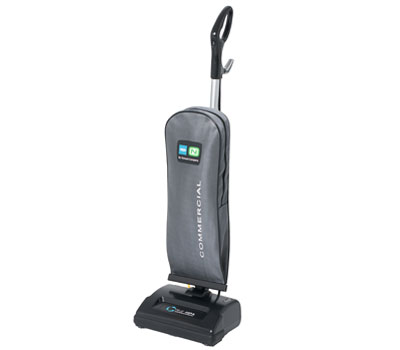 Vacuum Upright 13
Maximize cleaning efficiency with automatic pile height adjustment that adapts to a variety of floor surfaces and reduces premature brush wear.

Clean without disruption in noise-sensitive environments using quiet mode, at less than 70 dBA sound le.

Reduce maintenance costs and downtime with no-tool brush replacement.

Single stage, thermal protected, direct air
Automatic, self-adjusting
Item#
892036 - Light-weight upright vacuum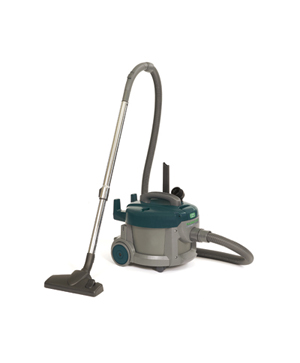 Tidy-Vac 6 Dry Canister - *Special Order*
Improve your Indoor Environmental Quality (IEQ) with standard 3-stage HEPA filtration system that traps small dust particles.
Easy-to-use telescopic vacuum wand help you comfotably clean hard-to-reach areas.
Durable components, proven in commercial applications, that you can rely on for consistant performance.
68 dBA sound level with double speed switch, allowing for ultra quiet vacuuming in noise sensitive environments
On-board tool storage and cord wrap makes for easy transport and storage
Kettle plug for easy cord replacement
On-board tool storage and cord wrap makes for easy transport and storage
​
Item#
892031 - 2.4 gal Tidy-Vac 6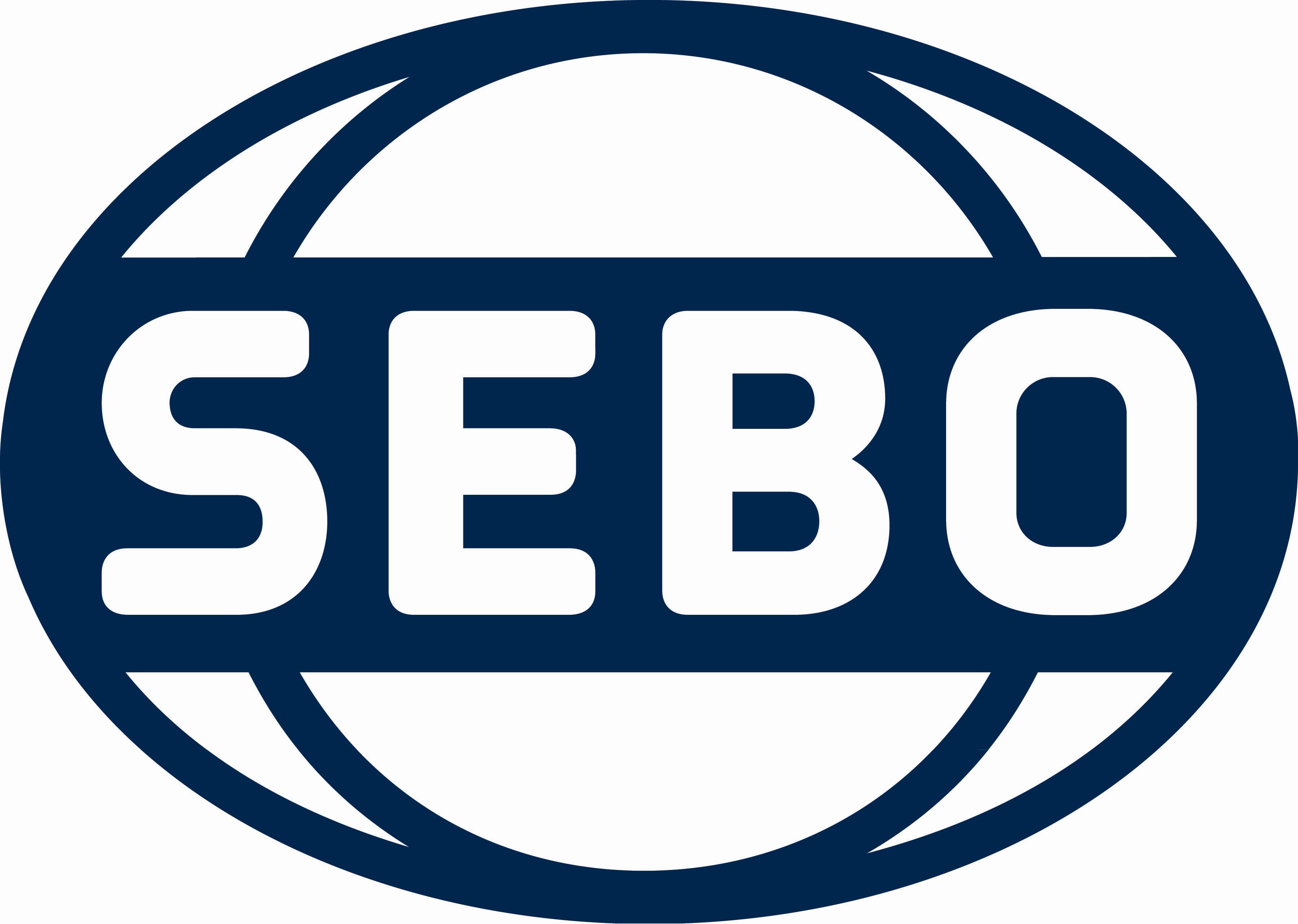 Manufacturer: Sebo

SEBO G1 Upright Vacuum Cleaner w/tools
Twelve-inch Power Head Width
Three On-board Tools Included: Dusting Brush, Crevice Nozzle and Upholstery Nozzle
Instant-use Wand and Suction Hose
A Low 5 1/2-inch Profile
Four-level Manual Brush Height Adjustment
Brush Obstruction Light with Automatic Shut Off
Incorrect Height Setting or Worn Brush Light
Easy Brush Removal and Cleaning
Bag Full or Clog Light with Automatic Shut Off
Soft Start Feature
Durable Matte Finish
Combination Carrying Handle with Rotating Cord Hook
Forty-foot Cord and Protective Rubber-coated Wheels
Easy Maintenance
Hospital-grade Filtration for Allergy and Asthma Relief
Excellent Pet Vacuum . . . Highly Effective Pet Hair Removal
Five-year Warranty
Item#
104104

Manufacturer: Bissell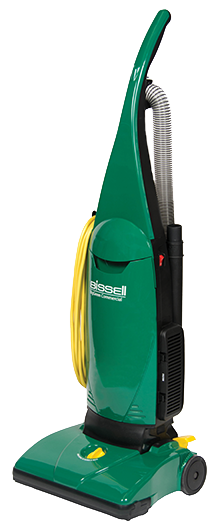 The 13″ ProBag™ Upright Vacuum is designed with the user in mind. From the powerful suction to the ready-to-use attachments, this bagged upright vacuum cleaner can clean a variety of surfaces that include bare floor, high carpet, and upholstered furniture. With three filtration stages and cyclonic cleaning system of the lightweight vacuum cleaner, you can easily remove dirt from every nook and corner. The extension wand, long power cord, and five surface height settings, help you conveniently clean thoroughly. The lightweight design makes the vacuum easy to move from room to room and transport from level to level.
13″ Cleaning Path Width
Lightweight – 12 lbs.
Includes a crevice too, combination dusting brush / upholstery tool & Extension wand
Attachments store in back of vacuum
Carry handle
5 Position height adjustment
10 Amp
3 Stage Filtration
30 Ft. Cord
Unit dimensions 12″L x 13″W x 41.25″H
1 Year Warranty
Item#
144145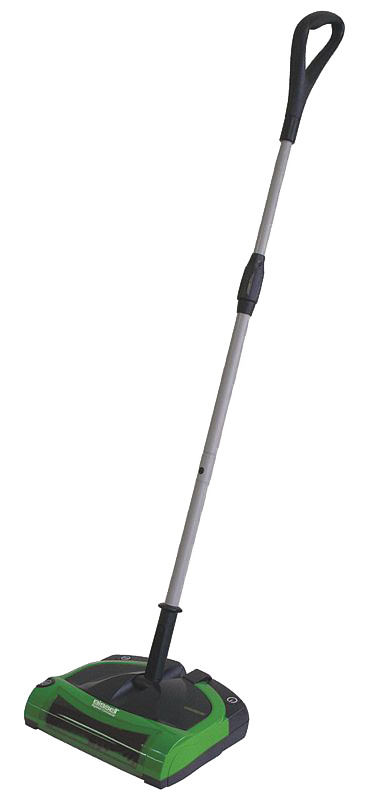 Powerful one motor floor sweeper: For those times when a vacuum is too inconvenient and a broom is too time consuming, reach for the Bissell BigGreen Commercial Cordless Electric Sweeper! The Cordless Electric Sweeper is surprisingly lightweight and powerful for its size. It employs a Nickel-Metal-Hydride battery with a running time 90 minutes. The battery-powered roller brush sweeps dirt and bulkier items into its dustpan, which is easily removed for emptying. The Cordless Electric Sweeper comes with a wall mount for out of sight storage and includes a compact power adapter for charging. Whether sweeping up crumbs from under a table, tidying up after children or quickly cleaning before and during a party, the Cordless Electric Sweeper will help you spend less time cleaning and more time doing the things you enjoy!
Rechargeable System with Revolving Agitator Brush and Geared Belt Drive for Superior Quick Pickup Cleaning on all Surfaces.
Battery long life energy saving Nickel-Metal-Hydride (running time 90 minutes)
Extra long life, energy saving, geared motor
Titanium bushings for brush roller (will not wear out like brass bushing)
Laser balanced brush roller & wheels for smooth & even operation
Non slip geared belt
Telescoping handle that makes operating comfortable
Virtually indestructible high impact housing & hood
See thru front housing to view any possible blockage
Dust bin designed to seal dust from leaking into motor housing
Dust bin capacity 17 ounces
Weighs only 3.9 pounds
One year limited warranty
Item#
888745

Manufacturer: Sanitaire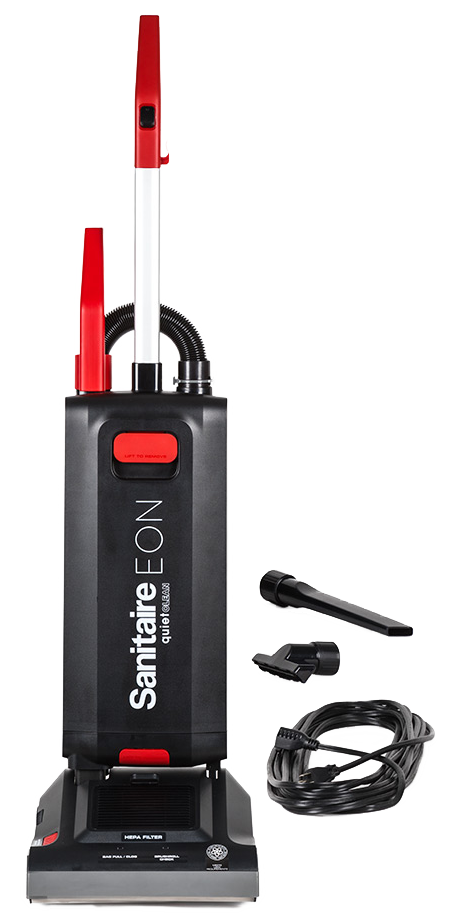 The EON QuietClean upright is engineered with professional-grade components to meet the demands of commercial cleaning. This easy-to-maintain machine has the CRI Gold Seal of Approval and delivers an exceptional clean every time while providing low cost of ownership. No-tool assembly, no-tool brushroll change, quick-change cord and clog and bag full indicator lights provide easy maintenance.
Cleaning Width - 12 Inches
Commercial Cleaning ToolsWand, Crevice Tool, Upholstery tool
Sound Level - 68 dBA
Quick Change Cord
FiltrationHEPA
Height Adjustment 4 Levels
10 Amps
Cord Length 40 Feet
Dust Capacity 3 Quarts
Warranty Two Years - Parts and Labor
Product Weight 17 Pounds
Disposable Bag
Item#
550006

Manufacturer: Minuteman